Happy new year, Friend! 
We'll keep it short & sweet today - we know every nonprofit, art project, and your cousin's brother-in-law is asking for donations today. Right now, we're $664 away from hitting our end-of-year goal to pay artists including Skip the Needle for their work on Octavia of Earth, Volume 2. Can you help us close the year in the black? 
Everyone who makes a contribution at any size will be entered to win one of three gift cards ($20, $20, and $30) to Sistah SciFi, a locally & black-owned cauldron of all things Afrofuturism.
---
2021, the year that never was (i.e., 2020: part two) 
Okay, that was the short part. Now for the sweet! Click the image below for our rewrite of Dolly Parton's "Hard Candy Christmas" from last year's Holidas in Space virtual variety show. In our version, Anand harmonizes with himself about a "Long 2020" while the visuals show the development of the universe since the big bang. You know, just for perspective.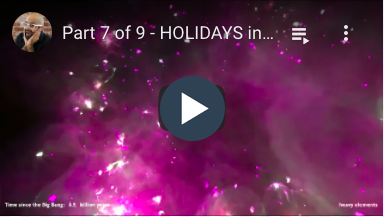 Wishing you and your loved ones strength, love, and joy in 2022. 
Musical hugs, 
Adrian, Anand, & Erica 
Uncaged Library Core Team