Octavia of Earth, Volume 2
Skip the Needle is thrilled to be releasing 6 original tracks for Octavia of Earth, Volume 2. Octavia of Earth is a docu-musical inspired by the life of black feminist icon Octavia E. Butler. Tender, funny, and magical, Octavia of Earth presents the human side of the mysterious founding mother of Afrofuturism. The project is a collaboration led by Uncaged Library Arts and Information and features over twenty queer Bay Area artists, the majority artists of color. Volume 1 (2018-2019) included 9 original songs, 10 prose videos, and 9 music videos. with visual accompaniments in development. 
Tracklist:
1. Pasadena Goddam - 1976: Octavia transforms her early childhood in a plantation house in Pasadena and current life as a working class Black woman writer into Kindred.
2.  I Don't Want Be Here Anymore - 1980ish: Octavia leaves behind her day jobs once and for all.
3. Manifest Destiny / Breakout - 1980ish: Octavia leaves behind her day jobs once and for all.
4, Space Invaders - 1985 - 1989: Back from Peru, Octavia faces the idiocy of Ronald Raegan's obsession with the nuclear war. In the twilight hours, Lilith challenges her to break free from the trap of hierarchical power structures that Doro seeks to control. 
5, Tell Me Your Name - 1995: Octavia wins a Macarthur "Genius" grant, whose cash prize allows her to pay off her mother's 40+ year mortgage and buy herself her first house, but only a few months later, her mother passes away. 
6. Patterns (Reprise) - Multiple eras: Artists in other disciplines discover Octavia's writing for the first time and see themselves represented in visions of past, present, and future.
Octavia of Earth, Vol. 2 Project Team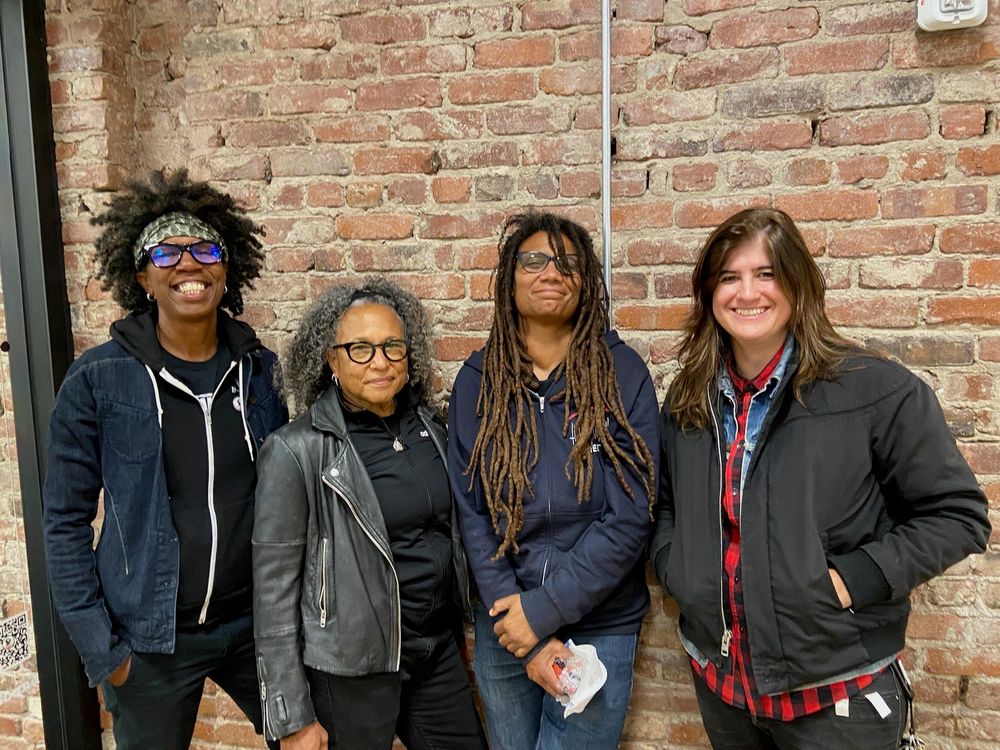 Project Team Bios
 Skip The Needle (Music, Lyrics, Vocals) is an Oakland-based queer female quartet made up of musical superstars of the Bay Area with Vicki Randle (The Tonight Show, Mavis Staples) on bass, Shelley Doty (Shelley Doty X-Tet, Jambay) and Katie Cash (Katie Cash Band, Year of the Fist) on guitar, and Kofy Brown (Kofy Brown Band, Sistas in the Pit) on drums. Together, they make politically astute, rock n' roll-funk. Their songs are musically diverse and carry a strong, socially conscious message that begs the audience to party while hearing it. Formed in 2014, Skip The Needle has released two full-length albums and is thrilled to have contributed 6 original tracks for the Octavia Of Earth, Volume 2 EP.
Anand Jay Kalra (additional lyrics, concept) is the founding director of Uncaged Librarian Arts & Information. Anand has worked in K-12 public schools, early childhood education, academic libraries, LGBT advocacy, and public health policy. Along this winding road, he has honed his knack for asking useful questions. Anand earned a master's degree in Library and Information Science from the University of Michigan in 2010 and used it to develop an information justice framework around finance, operations, and information services in social justice organizations from 2016 - 2022. In September 2022, Anand joined the staff at Queer Cultural Center as Executive Director. As an artist, he is primarily a songwriter and vocalist. Anand is proud to be a transgender man and an uncle to the greatest toddler in the world. 
Piper Payne (mastering engineer, full Octavia of Earth studio album) is a mastering engineer in Oakland, CA, where she works on albums for independent artists and major labels. Piper is the Owner and Chief Mastering Engineer of Neato Mastering. She recently finished her term as President of the SF Chapter of the Recording Academy and serves on the P&E Wing Advisory Council. She is also on the committee of the AES SF Chapter and is an active member of Women's Audio Mission. Piper has mastered a wide variety of music including nationally renowned artists Third Eye Blind, Madame Gandhi, Geographer, Elettrodomestico (Jane Wiedlin/Go-Go's), Shamir, Between You & Me, David Messier, and Fritz Montana, as well as Bay Area favorites Kat Robichaud, ANML, Sioux City Kid, The She's, Emily Afton, Abbot Kinney, Travis Hayes, Kendra McKinley, Van Goat, and Diana Gameros.
Nino Moschella (songwriter) is a multi-instrumentalist/songwriter and freelance engineer/producer. Nino has been playing music since age 6 and started recording as a teenager. Nino has had the opportunity to work with Willis Hickerson, Julie Wolfe, Strange Vine, Supermule, Bilal, Melvin Ryhne, David Hardiman, Burnard Purdie, Agape Soul, Song Preservation Society, Chief Xcel, Adam Theis (jazz mafia), Ledesi, Jesse Denatale, Valerie Troutt, Maria Muldaur, Willis Kirk, Platinum Pied Pipers, Zigaboo Modeliste, Marcos Silva, Oakland Bay Area Community Chorus, Bill Bell (The Jazz Professor), Mark Levine, Mario Guruanari, Latin Soul Project, Jeff Chambers, and many others. Nino has 3 solo records out on Ubiquity records. His music has been featured on television and film including Monuments men, Damages, Facing Ali, Eastbound and Down, Lincoln Heights, Waiting to Inhale, and others. Nino lives in Oakland Ca with his beautiful wife and kids. He also loves the mountains and fishing. 
Jennifer Ledesma (executive assistant) is a Mexican-American actor, singer, dancer, and musician currently based in Chicago. A Southern California native, she moved to Chitown to pursue her Bachelor of Arts in Musical Theatre at Columbia College Chicago, and has performed with theaters like Drury Lane Theatre, Porchlight Music Theatre, TheatreSquared, and New York City Children's Theatre. Outside of theatre, Jennifer has worked with organizations like GSA Network, Orange County Human Relations, and The Joy-Jackson Initiative, which all seek to improve the livelihoods of marginalized communities such as immigrants/refugees, those who identify as LGBTQIA+, and BIPOC folks. When she's not performing, she works as an Executive Assistant at Satiated Artists, an agency that connects artists with flexible day jobs, which is how she was connected to the lovely team at UL Arts.
How did we get here?
a brief history from director Anand Jay Kalra
Stay tuned!