New music is in the works with Skip the Needle! 
I'm writing with my producer hat on today. First of all, THANK YOU for bringing your energy to our virtual variety series last winter and spring (or at least taking the time to read our emails)! It's so comforting to know that our work has moved you and that somebody is out there reading these things. :) 
Second, I have a happy update and a request. The good news is that the music for Octavia of Earth, Volume 2 is well underway! Skip the Needle is working on five new songs plus a reprise of Patterns. They're scheduled to record in the studio on December 17 & 18!!! Here's a behind-the-scenes sneak peek at a couple of the pieces they're working on. 🎉 I can't put into words how fulfilling it's been to work on these songs together! 
Overall, our contract with them is for $8,000, and we've already paid them $2,000 of that - paid entirely through audience contributions from our virtual variety series. Over the next few months, we're aiming to raise the rest of the funds to fully pay the band, plus what we'll need to finish the full project (mixing and mastering for the new album, dancers & camera for the music videos, editing everything, all that good stuff) - a total of around $20k. But we're gonna do that one step at a time. Our current goal is to raise $2,500 by December 21st so that we can pay the band the second installment in time for the holidays. Are you willing and able to help us get there? You are?? Thank you! You can make your tax-deductible contribution at any size - $50? $20? $5? $500? It's up to you.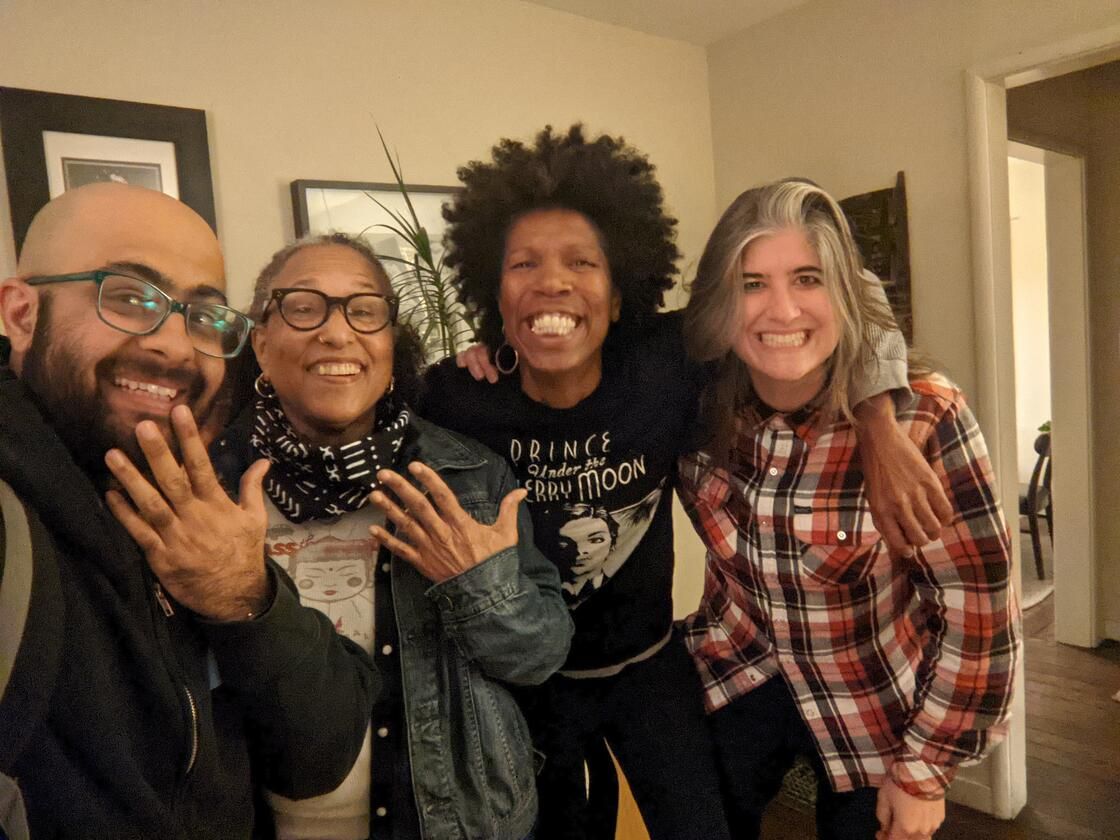 Image: Anand and three members of Skip the Needle (Vicki, Kofy, and Katie) pose for a group photo in Kofy's living room in November 2021.
---
If money isn't something you have to share right now, I understand! There are many ways to help this project roll towards completion. The best thing you can do is tell your friends about Octavia of Earth - for example, you could text your BFF these links to Octavia of Earth, Vol. 1 on Spotify or Apple Music. 
Whether your support takes financial or any other form, I'm grateful that you're part of this community. 
Much love, 
Anand